AV receivers are an essential part of any home theater or sound system installation. They take the signal from your source (CD player, TV, DVD player) and process it to provide surround sound, video up-conversion, and other features.
However, how do you know which the best av receiver is for you? We can help! This AV receivers buying guide will walk you through some things to consider when buying an AV receiver so that you'll be able to pick one with confidence.
What is an AV receiver, and what does it do?
A receiver is a device that takes the sound you receive through the HDMI input and amplifies it before sending it to your speakers. The second function of a receiver, besides amplifying the sound for transmission to your speakers, is selecting the audio and video you wish to watch. Then, with a single button press, you may switch between your cable box, Blu-ray player, and any other device that connects to the receiver.
Is a receiver the same as an amplifier?
Amplifier or receiver? Almost everyone who was planning to buy new audio equipment asked this question. The problem is that many people do not understand the difference between these two devices. So let's look in this home theater receiver buying guide: an amplifier increases the strength of sound while a receiver processes it. An AV receiver is an essential part of any home theater or sound system installation. They take the signal from your source (CD player, TV, DVD player) and process it to provide surround sound, video up-conversion, and other features.
Stereo or multichannel? What type of receiver do I need?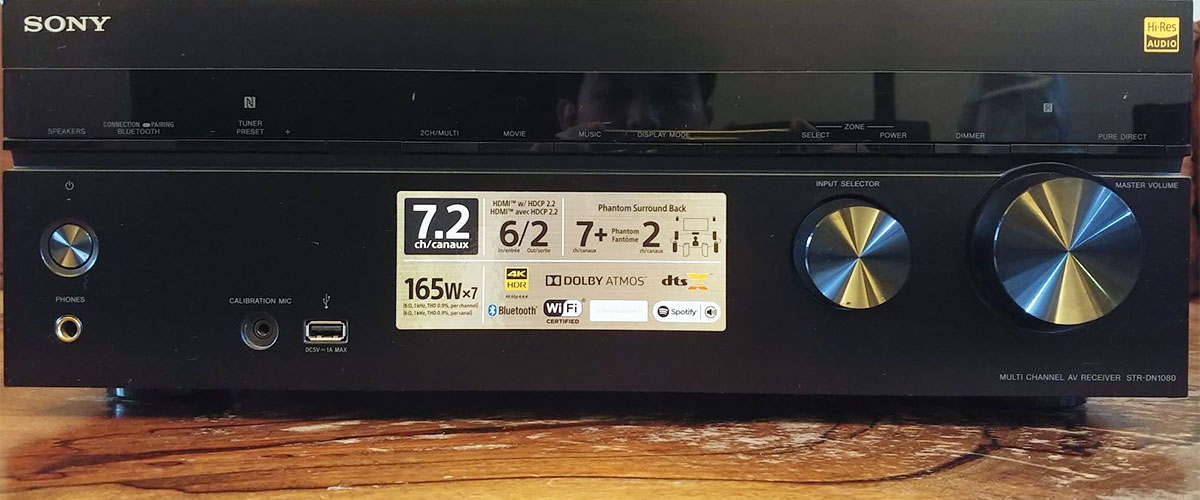 Often, modern speaker systems are multichannel. The quality of stereo sound depends on this characteristic, due to which the effect of presence is achieved. But some models are equipped with only a two-channel amplifier. Let's deal with this:
Two-channel receiver (stereo) – listening to music and vinyl, watching movies without surround sound effects.
Surround sound receiver (multichannel) – listening to music and watching movies with surround sound effects (such as Dolby Atmos), video functions. As a general rule, the more channels, the better (and more expensive).
Many experts agree that a 5.1 channel configuration is enough to create an impressive home theater system. It includes front left, center, and right speakers and a pair of rear sound sources, ideally placed along the sidewalls and slightly behind the main audience seats. A separate subwoofer allows for somewhat arbitrary placement. Until recently, few music recordings and movie soundtracks supported seven channels, making 7.1 channel systems in little demand. Today's Blu-ray disc recordings already offer high-resolution digital sound with support for 7.1 channel soundtracks.
Nevertheless, 5.1 channel soundtrack expansion should not be considered a requirement of today, although today, only the cheapest receivers have less than seven channels of amplification.
Besides 7-channel receivers, there can be 9-channel or even 11-channel (with line amplifier outputs), which will allow you to add frontal overhead speakers and extra in the soundstage's width.
How much should you spend on a receiver?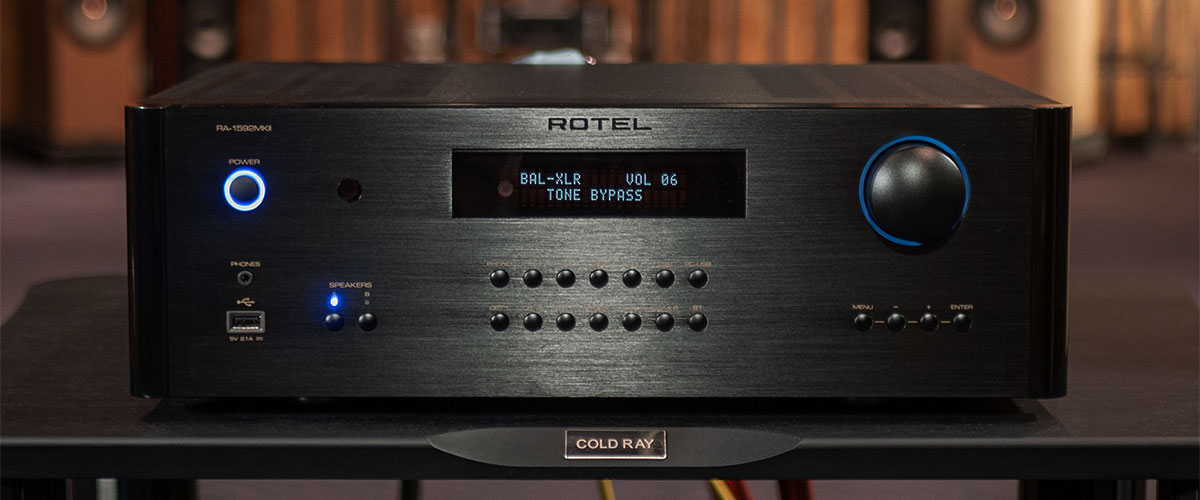 In order to choose a receiver with all the necessary functions, you need to spend at least $300. In this case, it is better not to buy an inexpensive model of unknown provenance and manufacturers who have been around for a long time.
We can divide the price range into three types: budget (up to 250 dollars), mid-range (from 250 to 500 dollars), high-end (over 500 dollars).
The budget option is the best choice for owners of compact speakers. Most often, they are equipped with amplifiers that can be connected directly to a receiver. In addition, mid-range models can be purchased with an additional subwoofer output and high power (100 W per channel).
High-end models are equipped with the latest technologies, have more support for audio formats and video codecs, and have power reserves of up to 150 watts per channel. In addition, some models are compatible with Alexa voice control technology. This allows you to operate your home theater with voice commands and features for making a home cinema based on Google Assistant.
The most expensive models provide additional functions that facilitate the daily operation of your device: remote control with touch screen display, wireless connection to all speakers (with built-in amplifiers), automatic calibration system.
How to choose an AV receiver?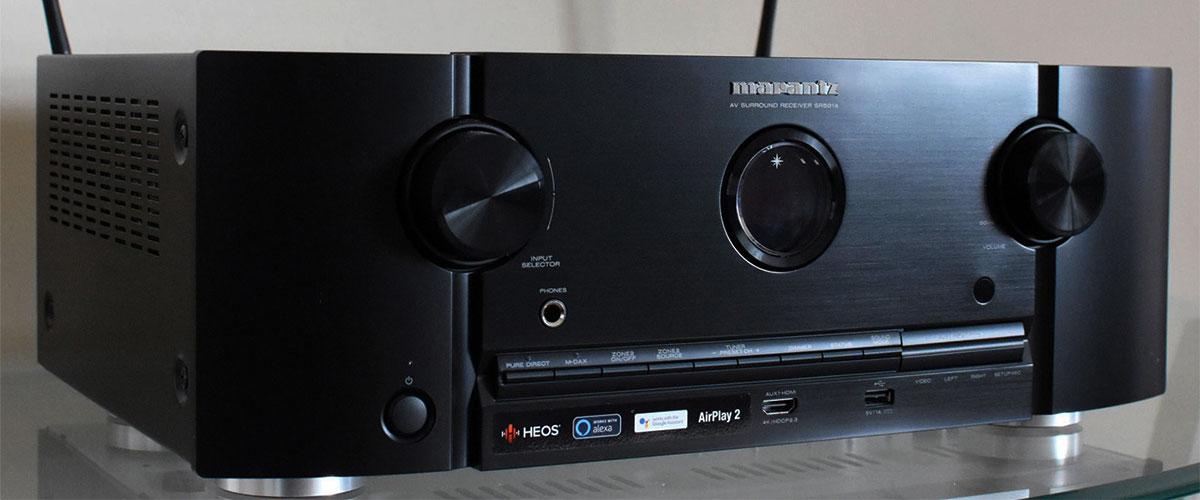 In the first place, you need to understand what you need to look for in a receiver and how much money is at your disposal for this purchase. The price of a receiver can vary from several hundred dollars to tens of thousands – depending on its capabilities and design features. In addition, it should be remembered that in order to get full functionality out of any AV receiver, you need to purchase additional speakers.
We present the main parameters that should be considered when purchasing an AV receiver.
How much power do you need?
This is a fundamental question. If you know the size of your room and how many speakers you'll be plugged in, this number will help determine which receiver is 100 W or higher (for reference). The more watts needed to power all those speakers, the bigger the amp needs to be on an AV Receiver – thus costing more money.
If the AV receiver has a 300 W or higher power rating, you'll have enough wiggle room to work with your speakers. But if it is lower than that, you might need to consider purchasing new ones so that they will sound their best!
The general rule is 100 W per speaker. So if you're looking to power a five-speaker setup, then you'll need at least 500 W of continuous power.
Remember that speakers are rated for continuous use under ideal conditions. If your room is always crowded with people or the AV receiver will be turned up loud most of the time, consider bumping it up even more.
If you choose to go with a high-powered AV Receiver (100 W+), make sure your speakers are compatible. If they aren't, there's no point in investing in some badass equipment if it won't power them correctly!
How many channels do I need on my receiver?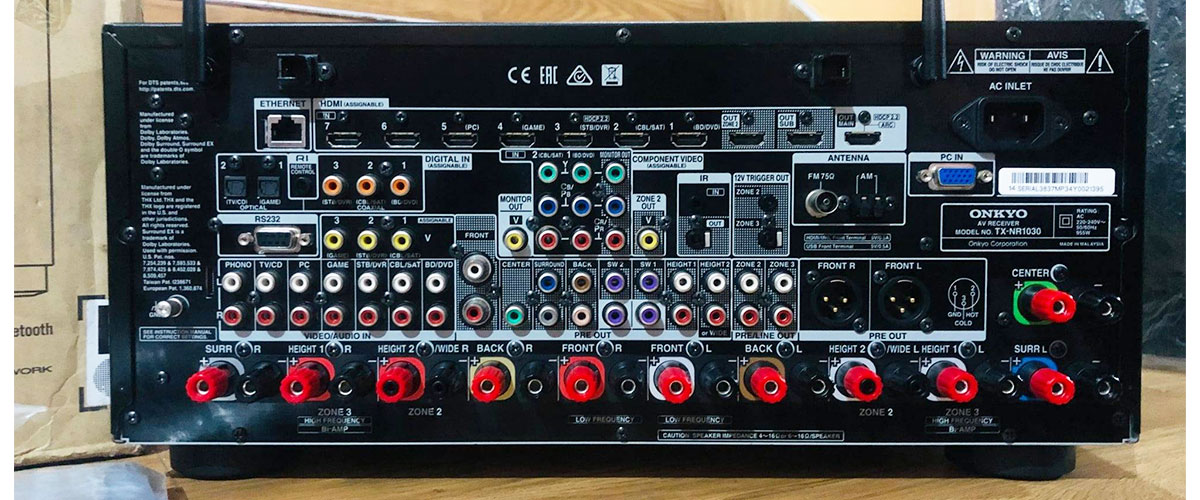 "x" is the number of channels or speakers at or near ear level
"y" is the number of subwoofers (low bass reproduction)
"z" is the number of overhead channels or speakers (add a 3D with a Dolby Atmos-enabled home theater receiver)
The most common multi channel home theater systems are 5.1, less common are 7.1 and 11.1. Before choosing a system based on the principle "more speakers – definitely better!", think about whether you can place them in the room and whether you need so much sound in such an area. For example, for a small living room is not a good place for the best surround sound receiver. The 5.1 is enough: one center speaker, two sides, and two rear speakers. By the way, there are two types of speakers – floor-standing and shelf speakers. Sometimes the manufacturer combines them in one system, a common variation – floor-standing side speakers, and the rear speakers are mounted on the wall behind the viewer.
The more speakers you have, the better. It's also worth noting that many AV receivers come with built-in amplification to power their speaker systems, while others require an external amp (or receiver).
What will you be connecting to the receiver?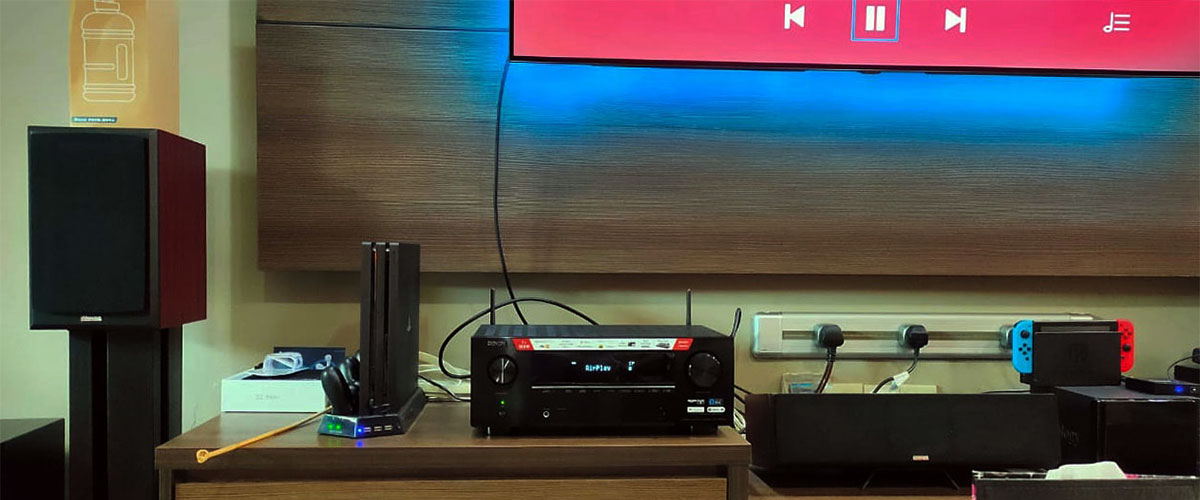 Before choosing an AV receiver, this is also important because some models are better suited for specific devices. The better the receiver, the more ports it should have for connecting other devices. Modern AV receivers can also connect almost any other equipment since they are equipped with HDMI ports and USB ports, Wi-Fi adapters, and Internet functions. So USB media, web radio, Bluetooth audio, and AirPlay are all available for the ultimate user experience. In top-end models of receivers, a function such as a DLNA client is often available, which will allow you to play audio/video recordings from your local computer network.
Inputs and outputs
This part is quite simple. You just need to figure out how many external devices you want to connect and then choose a receiver that matches those numbers of ports as well as possible.
Your TV, Blu-ray player, PC/laptop with HDMI output, CD player – all these things will require an HDMI port on the receiver.
Also, you will probably want to connect an iPod or iPhone – so look for a USB port on the back of your AV receiver.
For older equipment with HDMI ports (like game consoles), choose analog audio outputs and composite video connections using RCA connectors. They are often present in modern receivers since they support a certain number of analog video connections. Coaxial and optical digital audio outputs and inputs (these are very common) and a subwoofer output will also be necessary.
Wireless connections and built-in streaming services
An AV receiver can also have additional advanced features such as built-in Bluetooth, Wi-Fi, or AirPlay compatibility for wireless streaming from smartphones and tablets. And for a long time already an av receiver with Bluetooth and Wi-Fi is a common thing.
Built-in Bluetooth
It allows you to stream music directly from mobile devices by pairing them with the AV receiver. Several actual versions of Bluetooth are used, but for this feature to work, the AV receiver and mobile device must support version 5.0 or newer. While most can support up to two Bluetooth devices, some allow for more. Receivers with the AptX codec increase sound quality even further than standard Bluetooth.
Built-in Wi-Fi
Wireless av receiver uses an 802.11ac connection that can also be used for streaming music and video through apps like Pandora or Netflix (or YouTube). Suppose you already have wireless speakers set up in your home network. In that case, having a receiver with Wi-Fi will give you more flexibility and eliminate the need for another device to take up space.
Support for streaming services
Some AV receivers have built-in support for streaming services, such as Spotify or Tidal. While most of them do not include a full music library, they will allow you to access thousands of hours worth of curated playlists and songs from these apps without the hassle of using your phone or tablet.
If you are looking for an advanced receiver to upgrade your home theater system, you should consider some essential features.
What video features do I need in an AV receiver?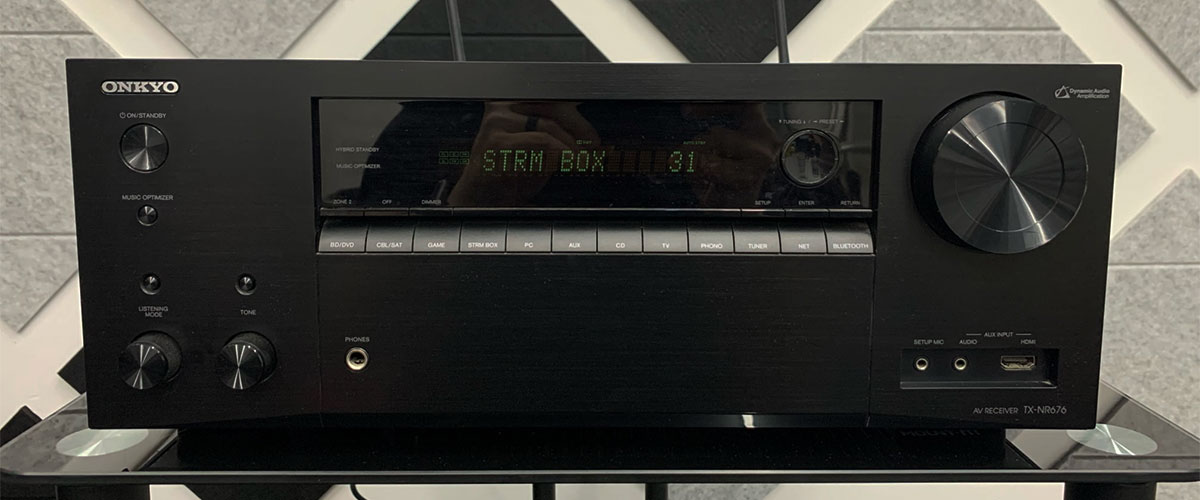 Today's home theater systems include TV, media players, game consoles, receivers and speakers. One of the most important factors to consider when choosing a home theater system is whether your equipment supports modern video formats such as 4K or even 8K.
Also, consider whether your receivers with HDMI input supports HDR (High Dynamic Range) technology. This is a new way to display images on the screen, which offers a more remarkable contrast between light and dark colors, while also offering brighter whites. Some receivers even offer HDR pass-through, which allows you to watch movies or shows in their original form with this technology.
Moreover, the receiver should have the 4K pass-through feature and HDMI 2.0 to support up to 60 frames per second. This can make your picture look better than ever. Also, do not forget about the upscaling function. Upscaling aims to enhance the resolution of a low-resolution image so that it can be displayed in high quality.
Dolby Vision and HDR-compatible receivers are also a good choice, and they offer the best image quality. The last important feature is that your AV receiver should be able to turn off its video processing when you use HDMI connections with source devices such as gaming consoles or Blu-ray players. If not, it can reduce picture quality since the receiver will constantly be processing the video signal instead of just passing it along to your TV.
Surround sound, and why does your home cinema need it?
Another essential feature to consider is surround sound. Most receivers can provide up to seven channels, which means that it has five speakers plus a subwoofer or bass speaker. This setup enhances your listening experience by adding more depth and immersion into the audio track of movies and games.
Also, you should go for Dolby Atmos support if you want to get the best out of your home theater system. Fortunately, most receivers support this advanced surround sound technology, which can make you feel like you are surrounded by sounds coming from all around – not just the speakers in front of you.
Also, there can be Auro 3D and DTS formats. The former is a revolutionary surround sound technology that offers fantastic sound quality, and it allows the creation of the perfect immersive audio experience. The latter can be found in some receivers as well because DTS:X is "young format." However, you should know that they are not compatible with each other, which means that if your receiver can play DTS:X but cannot support Auro-Codec, then it will be only limited to the standard surround sound.
Some audio receivers even offer four or five different ways of decoding and playing back multichannel audio files such as Dolby Digital, DTS, Dolby TrueHD, and DTS-HD Master Audio.
What about multiroom audio?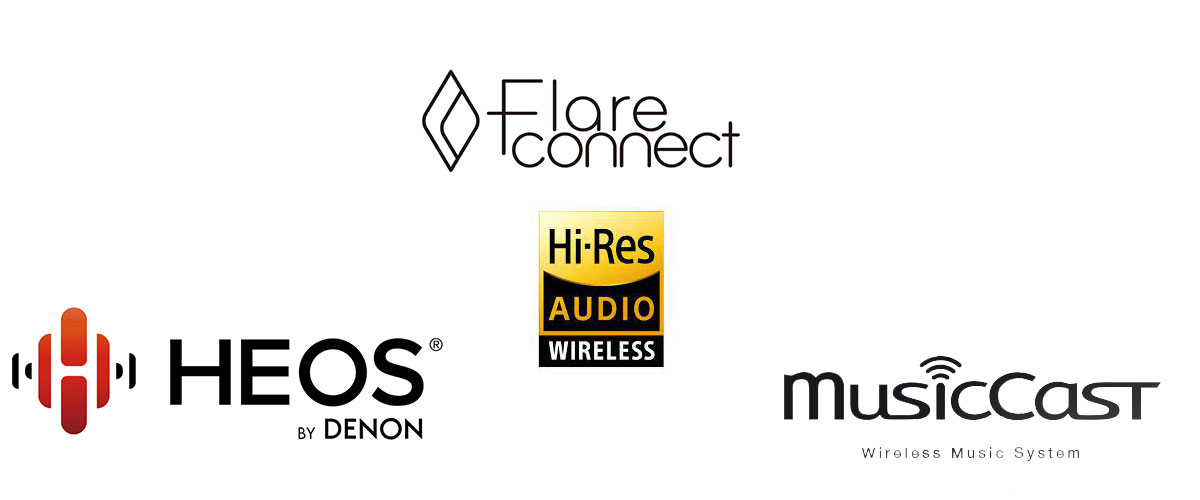 Not all AV receivers offer multi room capability, but it is worth looking for because you can easily set up a whole-home audio system with one receiver. For example, if your living room has a fantastic surround sound speaker setup, you will play the same song in every other room of your house, thanks to this significant feature.
Some receivers support Apple's AirPlay technology. If you have an iPhone or other iOS device, this is something worth looking for because it allows you to play any song wirelessly from your phone on your receiver.
Also, there is Chromecast and Bluetooth, which can turn your smartphone into a remote control for the AV receiver's operations, such as changing volume or switching songs.
However, most receivers from famous brands are equipped with proprietary multiroom technologies. For example, Yamaha has MusicCast and Denon AVR with HEOS. Both of them are easy to set up while offering high-quality sound in every room of your home. In addition, wireless speaker kits are available for these systems that allow you to add more speakers in other rooms if necessary.
Advanced features of receivers
Automatic speaker calibration is one of the most advanced features that you should look for. Of course, it requires a special microphone, and it is recommended to have an expert help you go through all the steps. Still, AV receivers can automatically adjust speaker levels or distances. Each receiver brand has its calibration system—for example, Audyssey MultEQ by Denon or YPAO by Yamaha.
Automatic calibration can be helpful if you want to improve the sound quality without spending time setting everything up manually. However, it is not always perfect, and some people prefer doing things themselves instead of letting an AV receiver make all adjustments for them.
Another feature that can make your life easier is a remote app. You can download it to your smartphone or tablet and use it as a remote control for the receiver's operations. Along with this comes the voice control function. There are receivers that voice assistants can control, such as Amazon Alexa or Google Assistant. This makes it easier for you to switch songs, play movies, and adjust volume just by talking with your phone instead of pressing many buttons on the remote control.
The additional cool feature is DC trigger output (12V) which allows you to control the power of other devices using your AV receiver. So, for example, if there is a device that needs to be turned on together with your TV, all you have to do is connect it via a DC trigger cable and turn on both devices at once. This can be done even without connecting an external device by pressing a single button in some receivers.